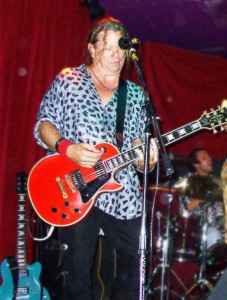 Hi, I'm Mark, the guitar player in the "Live Band Karaoke" show. I want to invite you to come sing with my band or just hang out and enjoy a great night of entertainment.
Whether you're a great singer, a beginner or have never sung a note, this gig is a slammin' good time. Of course just watching is a gas. People really get into it. But there's nothing like feeling the power of fronting a real live band. It blows the karaoke machine away. After you've done it…everything else is just practice.
Here's what people are saying!
"LIVE BAND KARAOKE. Do you need more? Be a rock star! These guys know a crazy amount of songs BY HEART. They don't miss a beat, but if you do, they help you out so everybody can keep rocking. Tons of fun!"

— Rick A.
"If you ever dreamed of being the lead guy/gal in a band this is your chance to feel the power!"

— Reggie L.
"For anyone who loves karaoke, this is "extreme" karaoke. It is so much more organic. Interacting with these excellent muscians gives one a taste of what it is like to be a performer on stage. It adds a new dimension that those of us thrill-seekers can truly get our teeth into. Try it once, and I'll bet you will never go back to the bouncing ball/computer screen karaoke again!"

— Shari
"Great people, great atmosphere, and insane amounts of fun! !"

— Candis
"There is a good selection of music to choose from. Even though you might completely suck the band will go with it and make you feel like a star. Thanks guys!"

— Karla